The following is an excerpt from our May newsletter:
As we discussed in our March and April newsletters, freestanding birthing centers are gaining increasing recognition for our family-centered, evidence-based model of care. New research demonstrates that birthing centers achieve better outcomes for moms and babies, and both policymakers and the media are taking notice.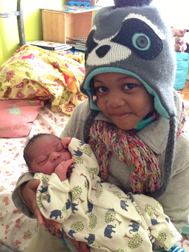 We are pleased to observe that more and more families are choosing to birth at BBC- the only freestanding birthing center in the New York metro area. Earlier this spring, we responded to our growing clientele by growing our staff (again, see our March and April newsletters for details).  
Now, we are pleased to announce that Brooklyn Birthing Center is expanding! We will begin conducting prenatal and postpartum visits on the lower level of our building later this month, minimizing traffic on the birthing floor. Our back office will be converted into an additional birthing suite, and our reception area will be converted into a family room. These improvements will allow us to provide a calm, comfortable birthing environment for more expecting parents.
Stay tuned for more updates about our upcoming expansion- and sign up for our monthly e-newsletter here!